Student Receivables
---
AEA specializes in Higher Education Receivable Management Solutions, which includes, but not limited to; Private Student Loan Servicing and 'Not in School Balances' due to the institution. Keeping up with today's generation of students can be fast pasted and challenging, AEA can manage your former and returning student's receivables from account placement until final resolution. We deliver this based on our ability to implement our technology and proven methodology.
AR Management
Loan Servicing
---
• Cohort account management
• Default prevention programs
• Loan and tuition payment plans
• Web base access for clients
• Web base access for students
• Next-generation payments
• Automated Reporting
• Customized letters and text
• U.S. base Call Center operations
• Lock box & payment processing
• Ringless voicemail delivery
• Electronic billing & archiving
• Automated collections placement
• Collections placement mngmnt


Private Student Loans
Pre+Collect PLUS℠
---
Engaging Students who have missed their payment obligations can be a daunting task. Early delinquent AR intervention is a critical piece to your overall strategy. Timely follow-up will minimize your losses and prevent accounts from going to a debt collection agency, thus saving you money and your student's future credit. Pre+Collect PLUS℠ is designed to take a fresh new approach to your delinquent accounts and minimize your bad-debt write-offs.
Payments
---
Securing payment is what billing is all about! AEA offers your student every possible option to pay: 24/7 mobile IVR & online e-services, recurring payment plans, live interaction with a representative, and traditional lockbox services. Students can choose text reminder options, paperless billing and more. We accept EFT and all major credit cards. Our integrated solutions give your students all the tools they need to efficiently manage their payment obligations any where at any-time.
You already know that AEA excels in full service student receivable solutions. But did you know that we also offer pre-collect, debt-mitigation strategies designed to save your delinquencies before they reach a default status? We recognize that a full service student recovery program is not always the right answer for every facility. Many of our clients have a strong early billing cycle in place but are frustrated with the amount of dollars that fall into a bad debt status.

Pre+Collect PLUS℠ is designed to reduce your bad debt write-offs while saving your students the stigma of being placed with a debt collection agency, further reducing the chance at engagment with that student. This is obviously good for your students, and even better for you: you get a balance resolved at a cost nearly half of what a collection agency is likely to charge and more importantly, you save a valuable customer relationship! For accounts that do reach a default status, we can either return the account to you or manage placement to a collection agency of your choice.

• 60-90 day programs designed to mitigate bad debt write-off and preserve patient relationship
• Automated voicemail delivery, outgoing call campaigns
• Email and TEXT messaging services
• Debt Collection placement and management available for defaults (your choice of agency)

Pre+Collect PLUS℠ is also a perfect solution for managing students that are no longer enrolled. We understand that often your billing options become limited once a student leaves the university. Our full-service billing solution gives your former students all the payment options they expect and professional, courteous follow-up.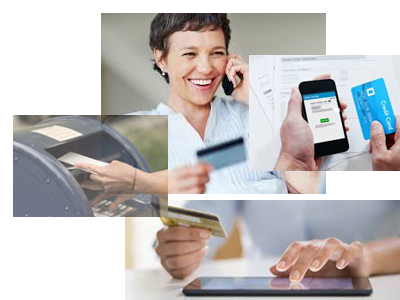 Next-generation Payment Solutions

Makes it easy to pay where students are, with any device they have,
at the time they prefer.




Student financial responsibilities can reach a wide range of student debtors. A Pew research in 2015 advises that over 90% of adult students own a mobile phone. Today, that number likely approaches 100! Our payment solutions deliver ease of availability, that provide solutions for students of all generations. We offer your student every possible option to pay: 24/7 mobile IVR & online e-services, recurring payment plans, live interaction with a representative, and traditional mailing services. Students can choose text reminder options, paperless billing and more. We accept ACH/EFT and all major credit cards. Our integrated solutions give your students all the tools they need to efficiently manage their payment obligations, all at the palm of their hands.

Implement your student receivables in to our already integrated solutions, provide your students with all the modern and traditional payment options while your institution saves thousands on vendor fees, administrative cost, materials and much more.
Self-Service Portals
---
More than half of all bills in America are paid online; your students can use our easy-to-use Self-Service Portals to manage their account(s) online, including; making payments, setting up payment arrangements, view payment history, balance information, enroll in eServices and more.
online
Interactive Voice
---
Interactive Voice Response (IVR) - Internet down? No WIFI? No Problem IVR provides your students with the same benefits as online portals and Agent Assisted calls by providing on the go! access to; payment options, balance information, due dates and payment history in both English and Spanish.

on the go
eServices
---
Students can enroll in eStatements and receive their student loan statement and a message from us in a more secure way than a traditional statement. Students can verify who they are, view their statement and make a payment in just a few clicks.


24/7 availability
Tuition Payment Plans
---
Tuition Payment plans allows your Students to set-up, reliable, recurring payment plans with auto-debits and pay as you go options; which enables them to control when and how to make future payments based on their student loan terms and our client's repayment cycle models.


auto-payments
Statements
---
On average, 50% of students we engage still prefer a mailed statement. Impactful, fully customizable statements can be a key, perhaps still one of the most important elements in increasing your recoveries and provide direct assistance to your students.


call center
Agent Assisted Calls
---
Get faster, easier, more powerful AR workflows, maximize revenue, and benefit from our US based call center. Our skillful representatives will provide quality, professional account resolution while maintaining a caring and respectful reputation with your Students.

by mail
Ringless Messaging
---
AEA utilizes technology that allows us to leave messages on your students' cell phones, WITHOUT ever ringing the phone. The student is not interrupted, the message is received, and now the student can respond at their convenience and with foresight, leading to quicker account resolution.
keeping on track
Lockbox
---
Don't worry we'll pick up the mail. All postal payments may be directed to our secure lockbox, depending on your project requirements. All mailed in payments will be processed at our local facility and cash remitted to AEA is deposited to a secure trust account.

solutions
In today's cyber world, it should be expected (not sold) that AEA demonstrates adequate controls and safeguards while hosting and processing data that belongs to our valued clients and their customers.

The security of our clients consumer's personal and financial data is of the highest concern. Our data security procedures include guidelines set by HIPAA and the Payment Card Industry (PCI). AEA is properly bonded and is compliant with all Federal and State Laws. Our work standards, controls, and procedures have been audited by an independent Certified Public Accounting firm using auditing standards instituted by the American Institute of Certified Public Accountants. We have successfully implemented protocols to ensure the confidentiality of our business, our clients and their consumers.

In addition we conduct thorough background checks on all employees, restricted access to facilities, 24/7 video monitoring of the premises, paper-less environment, drug testing, regularly educate staff on their responsibilities and keypad locked doors to limit access to sensitive internal areas. Access to systems and networks are controlled by user/pw combination in a restricted domain environment.

AEA follows stringent protocols in the transfer of customers' financial information. Encrypted data is sent and received via secure file transfer protocol (SFTP), and additional secure methods perferred by our clients such as VPN. Our Payment and FTP hosting sites are protected by latest EV SSL security certificate from Comodo, today's world leader in cyber security. We can send encrypted emails and automate reporting with standard Microsoft 365 email encryption tools, allowing our clients to respond with the same level of encryption using a free service.